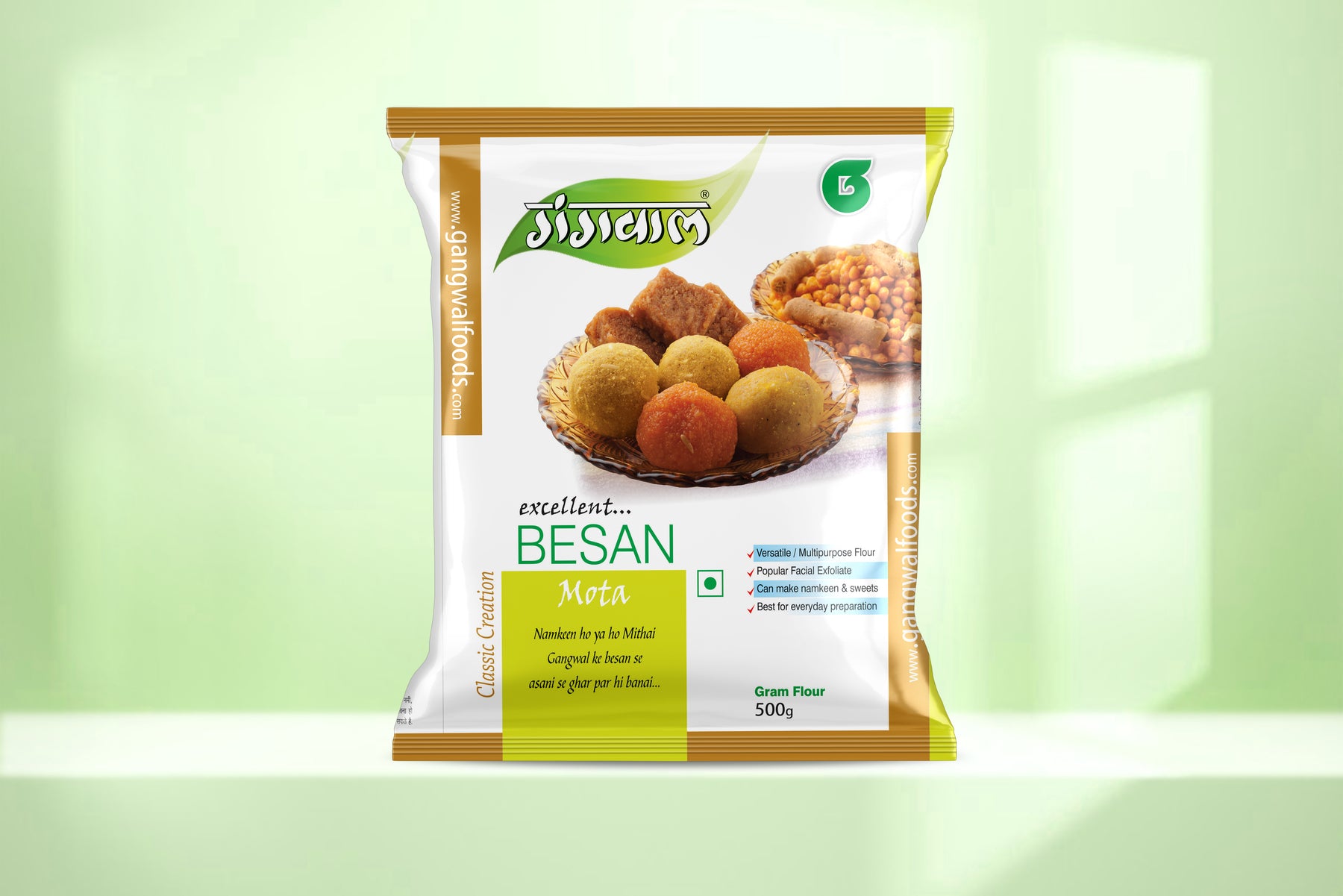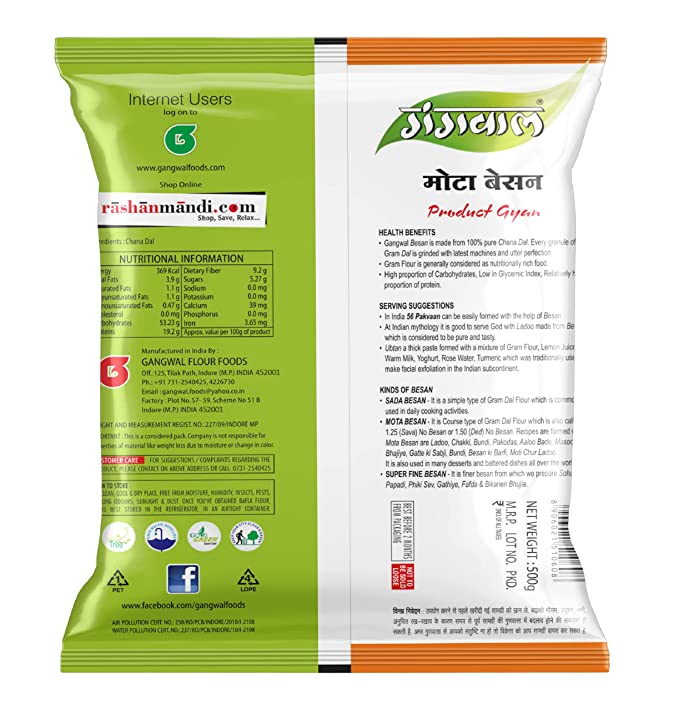 Gangwal Besan Mota (Gram Flour) 500gm Pack
Material:
Besan Mota 500GM
Gangwal Besan (Mota Besan) | Gram Flour 500gm | Chana Dal Besan | Chikpea Flour 100% Natural and Fresh Besan Powder|
HEALTH BENEFITS
1.Gangwal  Besan is made from 100% pure Chana Dal. Every granule of Gram Dal is Grinded with Latest machines and utter perfection.
2.Gram Flour is generally considered as nutritionally rich food
3.High proportion of Carbohydrates, Low in Glycemic  Index, Relatively high proportion of protein.
SERVING SUGGESTIONS :        
1.In India 56 Pakvaan can be easily formed with the help of Besan.
2.At Indian mythology it is good to serve God with Ladoo made from Besan which is considered to be pure and tasty.
Ubtan a thick paste formed with a mixture of Gram Flour, Lemon Juice Warm Milk, Yoghurt, Rose Water, Turmeric which was traditionally used to make facial exfoliation in the Indian subcontinent.
KINDS OF BESAN
1. It is Course type of Gram Dal Flour whici is also called as  1.25 (Sava) No Besan or 1.50 (Ded) No Besan. Recipes are formed with Mola Besan are Ladoo, Chakki, Bundi, Pakodas, Aaloo Bade, Masoor Pak, Bhajiye, Gatte ki Sabj, Bundi, Besan ki Barfi, Moti Chur Lado It is also used in many desserts and battered dishes all over the world.
prepare sohan Papadi, Phiki Sev, Gathiye, Fafda & Bikaneri Bhujia.
Gangwal Mota Besan

Gangwal Besan 100% Natural and Fresh.

Quality checked passed.

No artificial color, No preventives.

Made with 100% Natural Chana Daal.

Ideal For making laddu, dhokla, pakoda, chila and other items of besan.
Gangwal Besan Mota (Gram Flour) 500gm Pack
Best for making besan ladoo

Free Standard Delivery
Designated Day Delivery

Freshyly Prepared Ingredients
Made For Your Delivery Date

98% Of Happy Clients
Reach Their Personal Goals Set

Winner Of 15 Awards
Healthy Food And Drink 2019